What's New
---
BECOME A MEMBER
Pay your 2021 Dues Online (Free 1 year subscription to the Riparian Magazine included)
---
DNR says fish kills may be common during spring thaw
---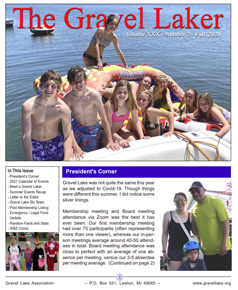 ---
---
Membership Meetings
If you were unable to make this Summer's Membership Zoom Meetings,  you can stream them on You Tube.
August 22, 2020 Membership Meeting June 6, 2020 Membership Meeting
---
---
New Lawton FD sub-station at the Porter Township Hall and Homeowner's Insurance Rates
---
BOARD OF TRUSTEE MEETINGS
---
---
2019 Walleye Stocking Video
---
Midwest Aquatic Plant Reference Chart
Descriptions of invasive and non-invasive plant species in our area.
---
PWC (Personal Watercraft) hours of operation are 8am to sunset.
---
MISIN is a regional effort to develop and provide early detection and response resources for invasive species.
---

---