What's New
---
The short-term rental agreement that was voted on at the township meeting(1/12/21). A few minor changes were added.
– The annual registration fee will be $150 per parcel of rental.
– The fines for violations are $100 for the 1st violation and $500 for the 2nd violation.
– Parking spots will not need to be defined on the registration form. Parking will be allowed on the property itself and on the side of the road (if not forbidden normally) within the property boundries.
– A trash receptacle will be required at each location. This is not trash pickup service, simply a receptacle.
– Other than these updates it was passed as is.
---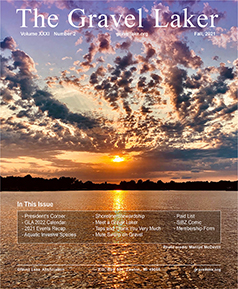 ---
Zoom  Membership Meetings
If you were unable to make our Membership Zoom Meetings, you can stream them on You Tube.
June 12, 2021 Membership Meeting
August 22, 2020 Membership Meeting June 6, 2020 Membership Meeting
---
BECOME A MEMBER
Pay your 2021 Dues Online (Free 1 year subscription to the Riparian Magazine included)
---
DNR says fish kills may be common during spring thaw
---
---
---
New Lawton FD sub-station at the Porter Township Hall and Homeowner's Insurance Rates
---
BOARD OF TRUSTEE MEETINGS
---
---
2019 Walleye Stocking Video
---
Midwest Aquatic Plant Reference Chart
Descriptions of invasive and non-invasive plant species in our area.
---
PWC (Personal Watercraft) hours of operation are 8am to sunset.
---
MISIN is a regional effort to develop and provide early detection and response resources for invasive species.
---

---